With a custom engine powering 40 unique sites, WeAre.Us creates online social networks centered around specific diseases and conditions to help connect people with others who share their struggle. As the only paid engineer with WeAre.Us, I was responsible for day to day maintenance, design cleanup, operations, search engine optimization and new feature development. As a member of a small team I also contributed significantly to community management, marketing, branding and company direction.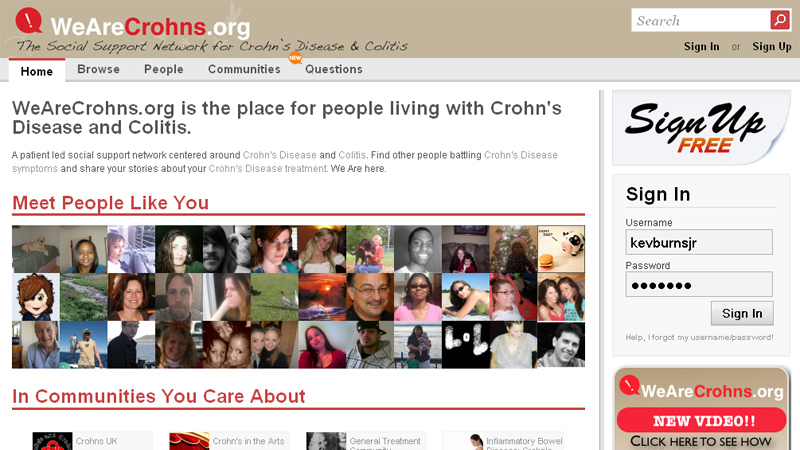 Prime Directive
My first task at WeAre.Us was to regain platform stability following a derailed site-wide refactoring.
Revision Control

With no revision control in place, securing the codebase and moving away from FTP as a primary means of source modification was a primary concern.

Platform Stability

With the development branch 95% non-functional, it was imperative that we bring the most recent version of the code back into operation in a timely manner.

Deployment Operations

After creating the site's first source code repository on GitHub I took responsibility for the deployment process, creating a more fault-tolerant deployment system.
Challenges
Following the 2.0 release of the refactored platform, challenges continued to arise.
Capturing Feedback

A prominent Help & Feedback forum was quickly created to elicit bug reports, feature suggestions and spam and abuse reports from users.

Identifying Performance Issues

One of the first pieces of feedback we received from users was complaints over site performance. Cacti was installed to help identify bottlenecks and monitor system performance.

Impementing Caching

We saw a 10x increase in performance by caching dynamically rendered images rather than rendering them on the fly for every request. Memcached was also used for database result caching and proper apache settings ensured that content was cached appropriately by the browser.

Consolidating Duplicate Logic and Markup

Unecessary duplication is a common characteristic of poorly structured code. Left unchecked it can inflate a codebase to many times its necessary size, giving greater opportunity for error. The best mode of attack is to consolidate elements with global presence (such as primary navigation) and moving naturally inward through one's normal workflow. Removing duplicate logic and markup is an ongoing task as use precedes reuse in an iterative development process.

Interface Consistency and Usability

Virtually every navigation element in the site was recreated with an eye toward consistency, recognition and usability. Buttons are big and labels are consistent. Easily recognizable icons are used beside labels wherever possible.

With a non-technical demographic, usability remained a high priority. Through feedback gathered from the userbase the site gained incremental advances to ensure that content was easily findable, refindable, actionable, responsive and visible.

Search Engine Optimization

During the month of October 2008, a comprehensive SEO initiative significantly increased the site's traffic from major search engines. Common search terms were extracted from Google Analytics and combined with trackers used to closely montior the sites' rank for a large number of search terms across multiple search engines. Daily reports helped identify SEO improvements across all 15 sites. Record stats for daily uniques soon followed.
Team

(4-6)

2 co-founder advisers
1 co-founder half-time coder
1 full-time engineer (me)
1 full-time community manager
1 full-time sales, marketing and biz-dev

Techologies

JS (jQuery)
Photoshop
CSS
HTML
PHP
MySQL
Linux (CentOs)

Duration

Oct 2008 - June 2009 (9 months)