Over the course of a year and a half, DailyStrength had amassed a base of 120,000 users across 500 support groups each targeted at a specific health condition. With Product, Technology and Executive leadership from Yahoo! and Facebook, the company took venture capital funding and was growing rapidly. During my 9 months as an Engineer, I saw the site grow from 120,000 to 300,000 users and was involved daily with the challenges facing a rapidly accelerating startup.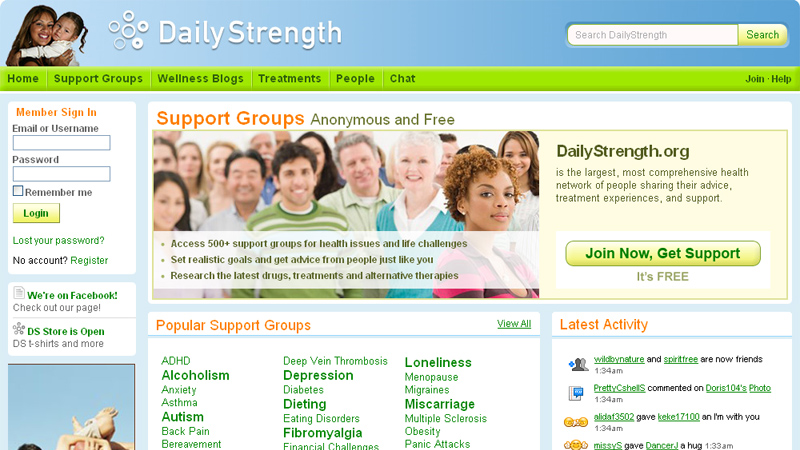 Groups Project
The largest project I spearheaded during my time with DailyStrength was a 3-month development effort to help fragment the userbase into user-created groups.
Discovery

A detailed spec was supplied by upper management, detailing the project requirements. The first task was to break the spec into bite-sized chunks and formulate a strategy for development of the new system. Features were atomized and sized relationally. Features who's relative size seemed more ambiguous were slated for a few days of up-front research to reduce the risk profile of the project as a whole, and to provide more accurate data for balancing the project load across multiple developers.

Development Strategy

In collaboration with upper management, 2-4 features were identified as Core, meaning that as a group they represented the essence of the project. These Core features were grouped together as Stage 1 in the development process. 3-5 additional features were identified as Primary, and 2-4 more as Secondary. Once the Core features were stable, work would begin on Stage 2 with the Primary features. Work was not to begin on the Stage 3 Secondary features until the Primary features were ready to go live.

Beta Testing

Once the Core was complete, a group of 40 power users was identified by member services and solicited to join a Beta program. This Beta group proved to be instrumental in identifying bugs in the new system. Feedback was gathered daily and bug fixes on the Core were shared alongside development of the Primary featureset.
Features
The Groups project would pull together features from across the site, reappropriating them into a space that could be managed by users.
Group Creation Form (Core)

Given the broad demographic of the site, usability was identified as a key aspect of all features in the new system. Using best practices in web form design, a simple and intuitive interface was created to make the sign up process as simple as possible.

http://www.dailystrength.org/groups/create (requires Sign In)

multi-step flow
client-side form validation
clear error reporting
clear fieldset headers
vertically aligned, right-justified labels
clear primary and secondary form actions
integrated "Invite a Friend" screen

Group Dashboard (Core)

Working off designs from our in-house Graphic Designer, a visual hierarchy was extracted from the mockups and represented programatically as a module and layout system for arranging content on the page. Using a consistent module format made it quick and easy to create new modules and to make changes to the visual style of all modules at once.


        Column +
        . Module +
        . . Header
        . . . Title
        . . . Navigation
        . . . . Link +
        . . Body

Group Options (Core)

The Group Options included sections for ..

group properties
privacy settings
access controls
module settings
transfer of ownership
logo upload and color theme selection

Members (Core)

In addition to allowing members to join a group, there were also facilities for managing members within the group. Different levels of membership were delineated (founder, admin, member), each with different levels of access to the Group's features. The tools provided give the group founder the power to :

ban a member
promote a member to Admin
demote an admin to Member
transfer group ownership

Discussions (Primary)

Group discussions were an extension of an existing forum system, reappropriated to serve the purposes of a smaller group.

group activity stream integration
email notification on new topics
opt-in topic reply notification
super simple, highly usable interface

Photos (Primary)

A single album for uploading photos.

super simple upload interface
ubiquitous pager navigation
serial photo navigation (next/prev)
access controls on who can upload

News (Primary)

A blog-like application for publishing group announcements.

super simple interface
archives
comments
access controls on who can publish
Team

(12-16)

3 Co-Founders

(CEO, CTO, CPO)

2 Business Operations
1 CMO
1 Graphic Designer
4 Engineers

(me)

1 Technical QA
4 Community Managers

Techologies

JS (jQuery)
CSS
HTML
PHP
MySQL

Duration

October 2007 - June 2008 ( 9 months )