Centrro is a vertical search engine designed to help consumers find personal financial products that best fit their unique needs. As the only full time Software Engineer at Centrro, I was responsible for maintenance on existing products and new product development.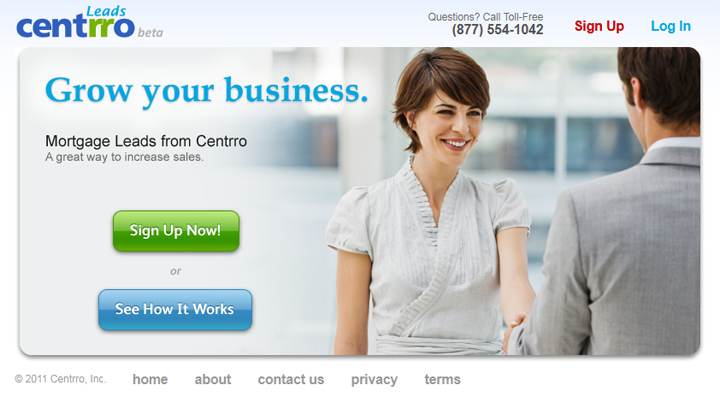 The largest project I worked on at Centrro was an application designed to sell mortgage leads to brokers. Brokers can register on the site and create filters detailing the types of leads they want to receive and set a bidding price. Leads for mortgage loans are then immediately delivered to the highest bidder as they come in.
Back End Development

The site was created using Recess!, a PHP Framework to which I was a primary contributor for several years.

Performed all necessary PHP development
Designed the entire MySQL database schema
Installed SSL Certificates
Set up cron jobs
Created a Job Queue system
Intregrated with payment gateway API
Secured application for storing payment information
Automated financial reports for accountanting dept

Front End Development

I was also responsible for all front-end development

All HTML/CSS/Javascript development
Created and processed images using Photoshop
Responsible for 90% of the design work
Set up caching for static resources
Custom tooltips and modals
Logo design
General Maintenance
I also did maintenance for existing web properties.
Team

(3)

1 Project Manager
1 Contract Developer/SysAdmin
1 Full Time Engineer

(me)

Techologies

PHP
HTML
CSS
Javascript(jQuery)

Duration

Oct 2010 - Jun 2010 ( 9 months )