As an application developer at the world's largest online retailer of electronic dance music, I worked closely with a large team of highly talented engineers. With millions of monthly uniques and petabytes of storage, Beatport's online music store is a large scale operation with plenty of real world challenges.
Beatport DJs
In September 2011, I joined the newly formed DJs team in Beatport's new satellite office in San Francisco. Our 5 man team came up to speed quickly coordinating remotely with the 25 person engineering department in Denver, CO. Our purpose was to expand the company's image from it's basic music sales roots to become an engaging destination for DJs and their fans.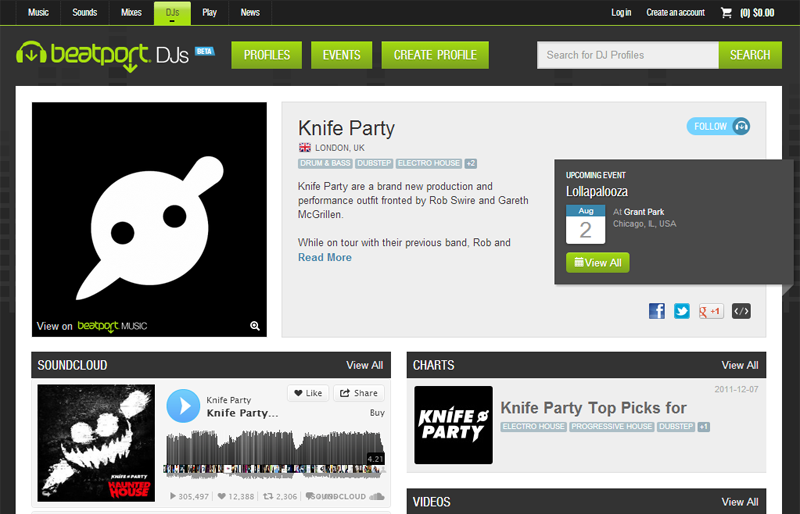 Basic Functionality

DJs can create a profile with a vanity URL to showcase their work.

Charts

Prior to DJs, all charts on Beatport were created by hand by the content operations team. We built tools to allow DJs to build their own charts, allowing DJs to interact with Beatport in a way previously reserved for a select group of featured artists. In just a few months, the number of charts in the system doubled its 5 year running total.

Videos

A video module was created to allow DJs to post youtube videos to their profile making use of data from the YouTube API.

Soundcloud

A similar module was created allowing DJs to link their DJ profile with their soundcloud account, automatically displaying their newest tracks on Soundcloud on their DJ Profile using Soundcloud's API.

Events

An events system was created to allow DJs to publish information about their upcoming events.
Beatport Mixes
In April 2012 I relocated to Beatport HQ in Denver to join the new 3 member Mixes team. In a two week sprint, we worked nights and weekends in close coordination with the Data Services and Infrastructure teams to create a fully functioning alpha version of the site in unprecedented time. The world's first legitimate marketplace for DJ mixtapes.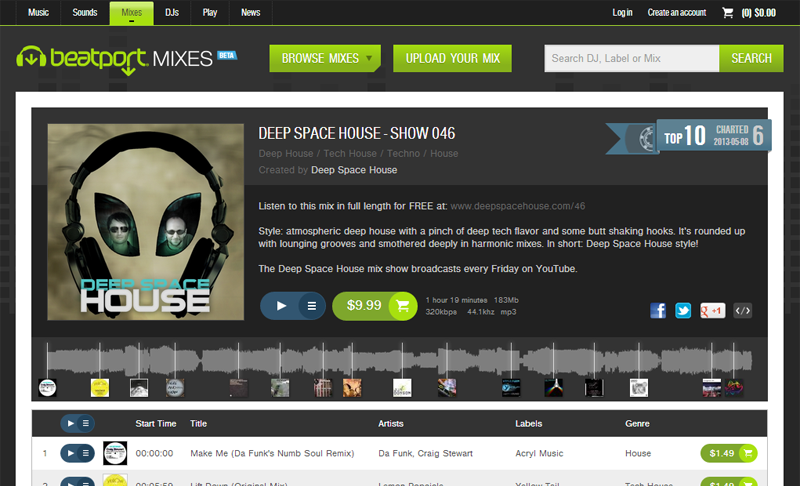 Basic Functionality

DJs can create a Mix, upload a 500mb mp3 from their browser, associate beatport tracks with start times, reorder tracks, associate the mix with an event, preview the reencoded mix in their browser moments after upload and publish the mix for sale on Beatport.

Top 100

In close coordination with Data Services, a system was created for collecting and publishing historically accessible top 100 charts for all mixes. Nightly data warehouse ETL scripts process order information in the DW and publish results to a separate historical top 100 schema accessible from the web tier.
Beatport Music Store
As a member of the engineering department, I stepped above and beyond my duties spearheading several efforts to improve the performance and efficiency of all Beatport properties.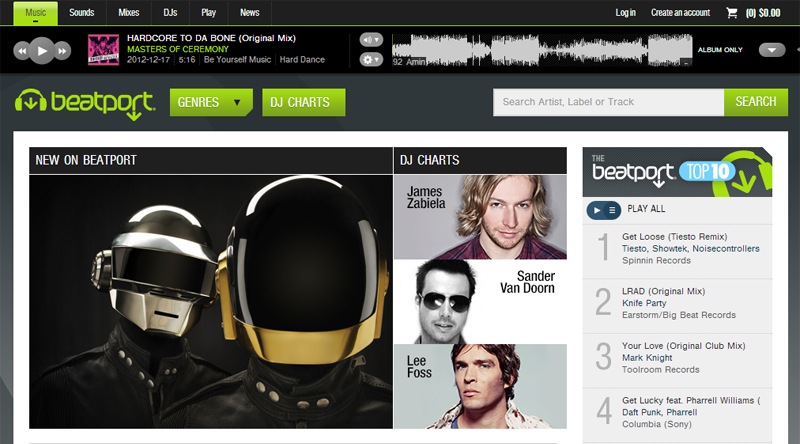 Statsd

In coordination with the infrastructure department, I helped implement a system for feeding an array of application performance metrics to statsd from the web tier. Below are a few examples of the type of information made visible by the system.


Api_Count         - Average number of internal API calls required to fullfill a request
Api_Time          - Average time spent waiting for internal API responses
Peak_Memory_Usage - Average peak memory usage
Query_Count       - Average number of SQL queries required to fullfill a request
Query_Time        - Average time spent waiting for SQL query results
Response_Size     - Average HTTP response body size
Solr_Count        - Average number of solr queries required to fullfill a request
Solr_Time         - Average time spent waiting for solr query response
View_Render_Time  - Average time spent rendering the view
Zend_Request      - Average response time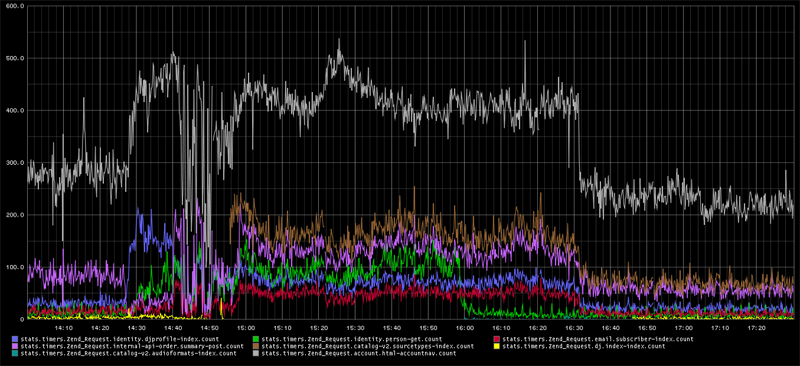 14:30 - release begins

14:42 - bad DB query in catalog API causes mysql connection saturation, site becomes unresponsive

14:55 - DJs is put into maintenance mode to eliminate calls to bad DB query

14:56 - catalog stats come online for the first time

14:58 - double page load effects begin

15:20 - static version hash updated (no change)

15:22 - static assets are properly redeployed

16:00 - prod patch related to identity API is deployed

16:30 - catalog deployed, varnish cleared, double page load effects eliminated

16:45 - DJs taken out of maintenance mode, all green
Application Performance Dashboard

Statsd is a wonderful tool, but it can sometimes be difficult to see trends across large numbers of metrics without a lot of digging around. To solve this problem, I reverse engineered Graphite's image rendering API to create a dashboard giving a higher level comparitive overview of system performance.
Stage vs Prod

Here we have stage on the left and prod on the right. Metrics such as req/s second are less useful here but API and SQL count can be useful across environments.

Prod vs Prod

Comparing different time frames from the same environment is much more useful; for instance before/after a major release
End Result

The end result of these incremental performance enhancements is clearly visible in the web tier CPU usage. By bucking the trend and reducing CPU load on the web tier by 50%, we were able to devise a new split-pool deployment strategy which greatly reduced production down time and the need for additional application servers.

Technology Department

(38)

3 product experts
6 application developers (me)
4 ui developers
3 database developers
4 data services engineers
4 qa engineers
6 infrastructure engineers
3 devops
4 directors
1 cto

Techologies

JS (jQuery)
CSS
HTML
PHP
Zend
MySQL
Varnish
Puppet
Statsd

Duration

Sept 2011 - Apr 2013 (18 months)